Photos: SM Quattro temperature monitoring unit (left); TM unit Chad (right)
RTM devices query the connected temperature sensors at regular intervals and send alarm notifications in case of temperature excursions. They provide detailed temperature logs to a central server via SMS, mail or GSM(Global System for Mobile)/GPRS (General Packet Radio Service) communication. All the data received on the server, including alarm notifications and temperature reports sent at programmable intervals, are stored in a database with audit trails and can be easily viewed using a standard web browser or a client software installed on a Personal Computer.
The WHO Performance, Quality and Safety (PQS) website and corresponding catalogue provide a detailed overview of pre-qualified products and devices. The pre-qualified products must fulfill set conditions including a minimum of 2 sensors, an external display, calibration certification and only few products are currently pre-qualified.
UNICEF Supply Division (SD) currently supplies the pre-qualified RTM solutions and can also procure other products in special circumstances. For technical reference on the products please refer to the WHO PQS catalogue and for more information on procurement, cost, availability, and installation of the devices through SD, please refer to the SD Cold Chain Support Package and Supply Catalogue.
When choosing the appropriate devices, some factors should be considered in order to define the product best suited for specific needs.
Wired or wireless device
Device to be used in Cold/Freezer Rooms in one location/site with several locations
Language of the software (most software is in English only)
User-friendliness of the software/cloud-based user interface for data analysis
Portal subscriptions included in the contract/not included and for how long? Generally 3 years
Installation and some maintenance included in the contract/not included
Degree of software compatibility with other health metrics software used in the country (LMIS...)
Possibility to remotely program and change some settings, including adding new recipients phone numbers for the SMS alerts
Possibility to store and trace calibration certificates
Actionable alerts include local audible and visual alerts on wireless sensors as well as remote alerts sent by email, SMS, and phone calls. Most products use local mobile phone networks to document temperature readings and generate alerts if the storage temperature exceeds defined thresholds. The system is remotely accessible and configurable from any internet-connected mobile device or computer by staff with the appropriate user rights. Some products include a reporting tool that enables the tracking of incidents and corrective actions, as well as automated reports for compliance and quality control. It enhances accountability by automatically escalating alerts to the responsible individual if/when pre-defined limits are exceeded for specific action steps and the alert notification can only be closed when a root cause of the excursion is provided.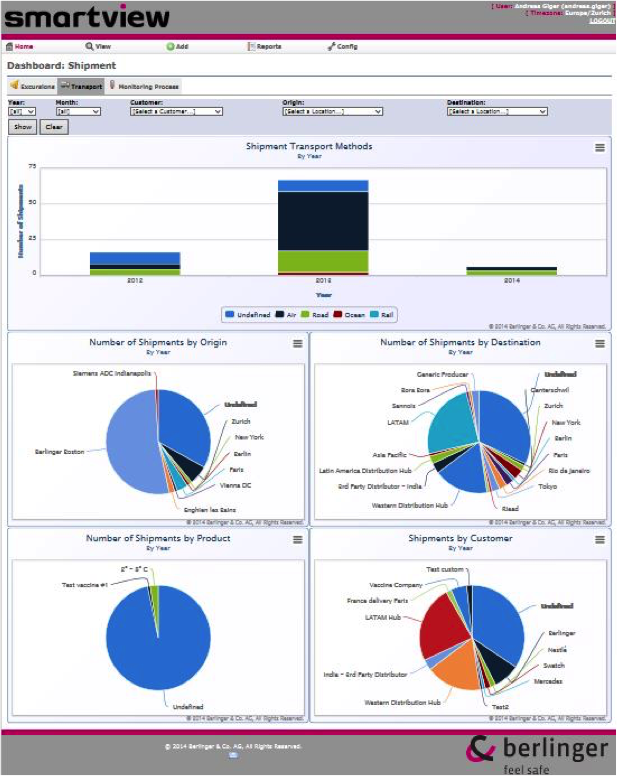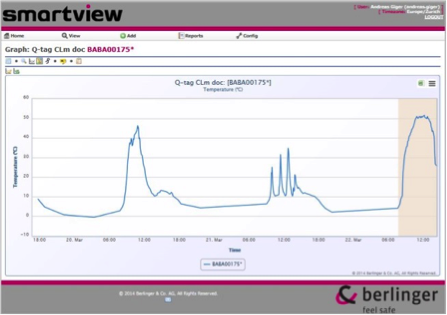 Source: Smartview, data visualisation
Central temperature monitoring devices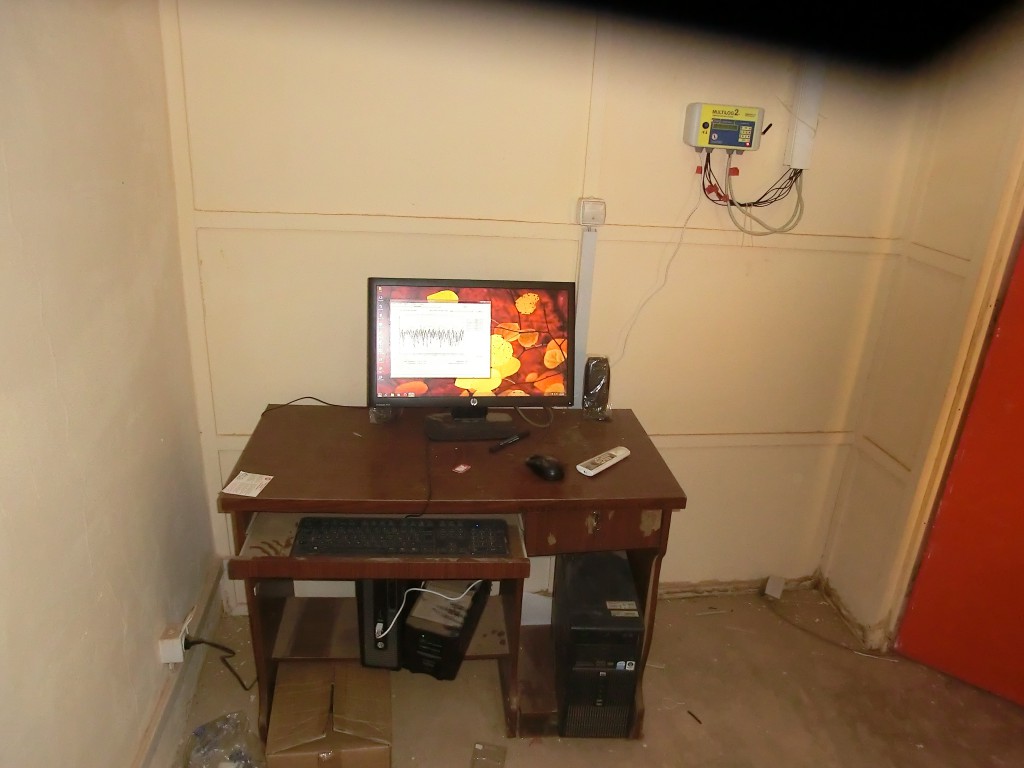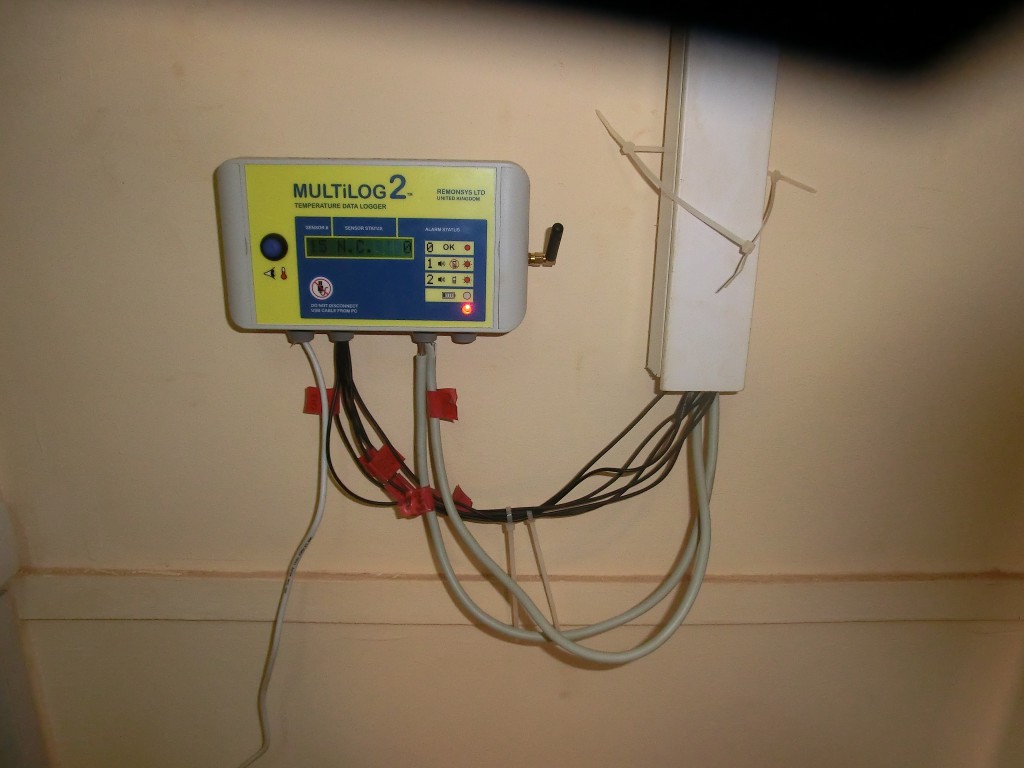 Photos: Multilog Burkina Faso, Denis Karaga
Some non-pre-qualified products classified as Local Temperature Monitoring System or Central Temperature Monitoring System provide most of the functionality of RTMDs and do not require portal subscription for data administration, which significantly reduces the recurrent costs since they are not web-based. They are linked to a local always-on PC so the risk is that the whole system depends on one local PC that could accidentally be switched off or broken which would jeopardize the whole temperature monitoring system.
After 4 years most sensors will have a risk of deviation of +-1oC that increases further over time. The calibration needs to be verified in order to avoid risk of freezing.
RTM reduces many labor-intensive processes but it should be stressed once more than even this more sophisticated product requires a system of training, accountabilities and responsibilities in order to protect the vaccines. The RTMD signals an alarm but people need to react to the alarm appropriately. More information can be found in the RTM implementation guidance in the related resources below.
Related resources